WHY VISIT SAN GIMIGNANO & PODERE LA MARRONAIA?
Near San Gimignano, in one of the most picturesque places between Siena and Florence, the La Marronaia estate stands between rows of vineyards and silvery olive groves.
The family company was born at a time of much-needed progress towards organic and biodynamic methods. Nature returns what we give, making respect for the environment and territory a requirement if we are to enjoy the fruits of the earth. It is the basis of our philosophy, born of the desire to safeguard a rich and varied ecosystem, untainted by synthetic chemicals.
The consistent effort and commitment, the adoption of organic and biodynamic methods, represent not only a production model but a well-defined way of life.
HOW TO TURN YOUR STAY INTO A MOMENT OF PERFECTION
The life of an agricultural holding that produces wine and oil requires a lot of effort, but the satisfaction alone is a grand reward.
Our day is full, as we work tirelessly to observe and control vineyards, olive groves, and the cellar, and maintain our land at its best. There is no doubt, however, that the most gratifying moments are those we spend with our guests. As much as we value our production process and its splendid results, we take immense pleasure in making your stay perfect.
A stone's throw from the city of towers (San Gimignano is also called Manhattan of the Middle Ages), you can let your eyes wander and enjoy the most beautiful view of the ancient village of San Gimignano.
La Marronaia offers all the relaxation and tranquility of a family-run business located in the countryside, where you can admire the view of the characteristic landscape designed by the rolling Tuscan hills. In the background, the vineyards and olive groves are a gateway to a bucolic world where time has frozen.
We love to share the friendliness and hospitality of a family that, in harmony with its collaborators, takes care of its customers as it would one of its own children.
This is why we offer those who arrive at La Marronaia an authentic experience; giving you a taste of our daily lives.
Simply serving our food is not enough to make our gastronomic specialties known; real knowledge lies in the preparation of the dishes. This is the concept behind the cooking classes: real cooking workshops to be enjoyed as a couple or family. These opportunities will allow you to get in touch with the history of a territory through its culinary traditions.
Of course, the experience of enjoying our food is just as important. Typical Tuscan dishes, wine, and extra virgin olive oil are the fruits of our hard work that we gladly share with you.
We wish to accompany you in the full culinary experience, leaving you with a pleasantly vivid memory. Part of our full immersion experience is serving our products where we harvest and collect our raw ingredients, which is why we offer tastings and meals in the vineyard, where it all begins.
We at La Marronaia know that hunger can strike at any time, we are therefore prepared with a fabulous Tuscan-style afternoon snack (called Merenda) to cull your appetite. An exclusive and private moment away from the frenetic city noises, to breathe in the wonders of the Tuscan landscape kissed by the sunset. Let us tempt you in perfect Tuscan style, with a rich board of cold-cuts and cheeses accompanied by our honey.
To enrich your chianti wine tour, we offer vineyard visits. Sharing the daily operations we carry out to ensure high-quality products is an integral part of the experience we offer.
Here you can find a list of fun things to do in San Gimignano organized by La Marronaia:
Tuscany, specifically the area from Siena to San Gimignano, has always been a generous land that produces fabulous wines and fantastic food.
Today more than ever, this region needs to be safeguarded, which is why we have chosen to use biological and biodynamic methods that follow the rhythm of nature without disrupting it. No pesticides are used because healthy food can only grow in healthy land.
All the care we put into our agriculture is reflected in our products which, in addition to being the undisputed protagonists of our dishes, can be purchased on-site or online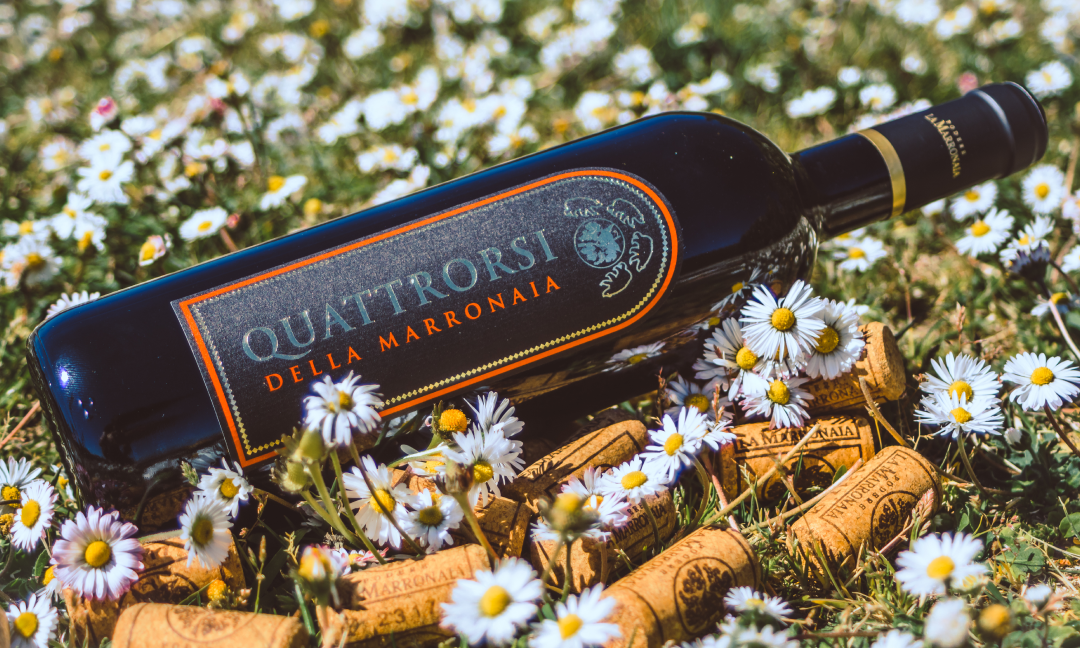 A champion among these is our extra virgin olive oil. Known as the liquid gold of Mediterranean cuisine, La Marronaia oil is the result of meticulous work at every stage; from pruning the olive tree to harvesting and pressing.
Simple or flavored, you can choose the one that best meets your tastes.
But let's try to understand what we mean by EVO oil and why this denomination is so important.
EVO, the acronym for Extra Virgin Olive Oil, defines a top-quality olive oil, obtained from excellent quality olives that have never touched the ground and that do not undergo any type of chemical treatment.
Unlike EVO, commonly olive oil is a mixture of virgin olive oil and refined oils, often obtained from non-organic agriculture. This proves that the specific denomination indicates significantly higher quality.
Among our products, you cannot fail to find the finest San Gimignano wine, rigorously produced via an organic and biodynamic system to maintain the characteristics of the vine and terroir.
Whites, reds, bubbly: a vast but highly selected range.
One of our latest arrivals is a Vernaccia white wine, vinified using the amphora method. This type of innovative production meets the criteria of the company's philosophy and maintains the authentic flavor of a local grape.
Curiosity and continuous experimentation are part of our work, which is evident in the range of products we offer.
An example?
We went to Modena, the area par excellence of PDO Balsamic Vinegar, to find out about the creation of a product appreciated throughout Italy, whose production sadly has never received much attention in Tuscany.
We certainly aren't lacking in either the main ingredient, grapes, or passion, so why not try?
The result? Have a taste and let us know!
For us, a customer is an integral part of the family.
Our Family Membership Card is our way of thanking those who are most loyal. Via this card, you can receive and taste our products at any time of the year.
CONCLUSION
If you want to relax, discover our territory or, more simply, enjoy top-quality products in an enviable setting, come and visit us! We will be glad to meet you and begin a beautiful friendship!
For any request, do not hesitate to contact us (fb, telephone, site, e-mail etc ..).
PODERE LA MARRONAIA
Via Martiri di Citerna, 2
53037 San Gimignano (Siena, Tuscany, Italy)
Tel: +39 0577 907 265
 U.S. Customer Service
‎+1 (323) 746-1958
Mail: [email protected]