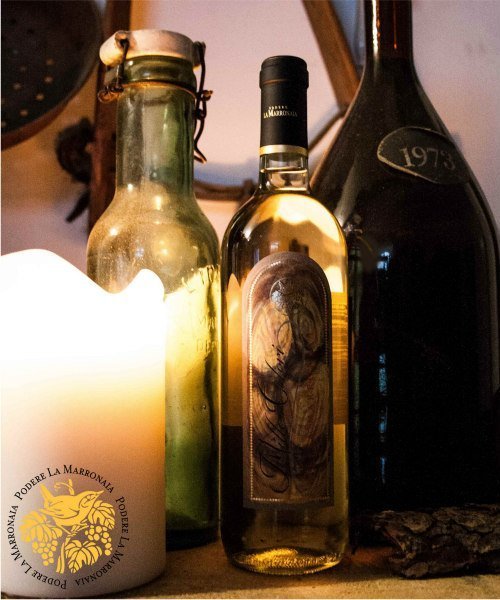 The Millecolori della Marronaia is a grape -based wine of Vernaccia di San Gimignano, the typical vine of our town, and Chardonnay. The certified ICEAorganic grapes come from the vineyard of Podere le Colonne, on the hills of San Gimignano, in the heart of Tuscany. The soil devoid of residues of pesticides, mineralogy and southeast exposure during the hot Tuscan summer are the ideal habitat for cultivating these grapes.
Millecolori della Marronaia is a wine of decisive character but with a wrap-around softness on the palate. The alcohol content is 13%, the fresh and fruity flavor makes it a versatile and enjoyable wine at any time.
Description
Millecolori della Marronaia is the last born of the company. It keeps innovation and tradition in it and is the expression of the philosophy adopted by Pietro and Corrado in continuing the family business.
Vinification takes place with soft pressing and fermentation at controlled temperature. The short ageing in oak barrels gives to the wine delicate scents and tertiary aromas, leaving also some space to the freshness and vivacity typical of these grapes. The vineyard of Le Colonne is at an altitude of 300 meters and it's cultivated with a density of 4000 plants per hectare. Harvesting takes place strictly by hand during the firt weeks of September. The first stage of the vinification happen in steel tanks for 48 hours at controlled temperature, and it's named "clarification or decantation". After that take place the alcoholic fermentation and the subsequent ageing happen in oak barrels for almost 4 months. We also leave the wine age for 2 months in bottle.
Why the name is Millecolori?
The translation of this name in English is "thousand colors" and it' a wine that we dedicated to life. It' in honor of the thousand shades of life, of its energy and at the lightness and spirit that we must have to face it. It's the first wine entirely thought and realized by Pietro and Corrado.
…Some Sommelier Tips…
The Millecolori owns a bright straw yellow with greenish reflections. The smell is very intense and persistent, you can smell inside acacia and citrus flowers combined with fragrant mineral notes. At the palate result soft, fresh and sustained by a gentle and sapid flavor.
Food pairing
Suitable with a pleasant aperitif, it also fits well with white meat or fish dishes, pasta with vegetables and fresh dishes.
This wine, thanks to the thousand flavors that owns, is also perfect with very light and fruity desserts like strawberry cheesecake or caramelized fruit.