The history of the Quattrorsi della Marronaia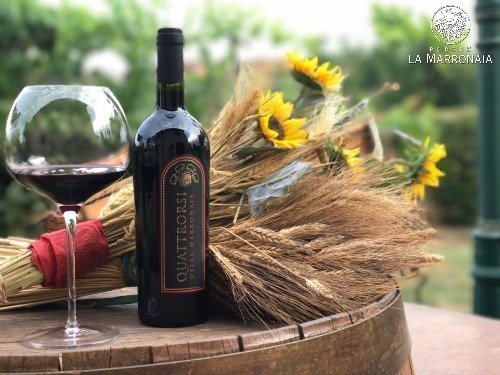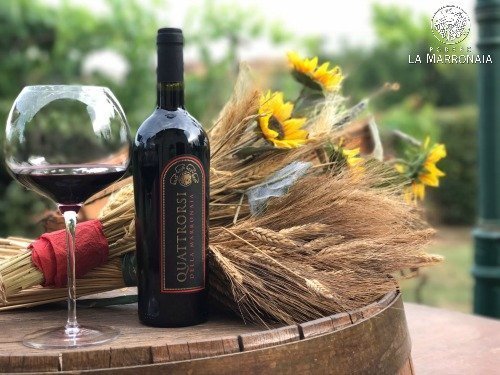 Source: Podere La Marronaia 
We can translate the word "Quattrorsi" like "Four Bears"… What a strange name for a Wine, you might think… Here I explain the origin of this particular name!!
We know that usually bears are not very social animals. They love to stay in their herd and just interact with the members of this herd.
Here we are! One day, after that Silvia and her family moved to Podere La Marronaia, her mother started to call her, her husband Luigi and her two sons "Bears"; these because the Podere is immersed in the nature and isolated from the city, like a bear nest, plus Silvia, Luigi, Pietro and Corrado started to be intolerant at the noisy and crowded city centre.
That's why now Silvia and her family are known like "The Four Bears" and made of this name also a tattoo on their arm, like a symbol of the family.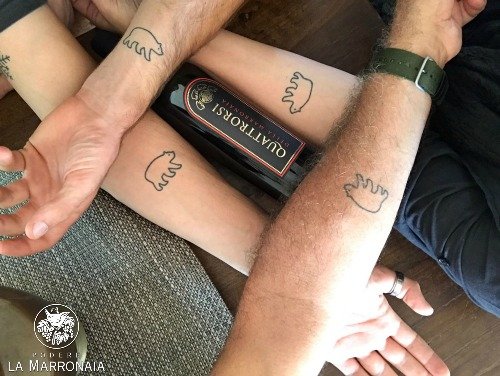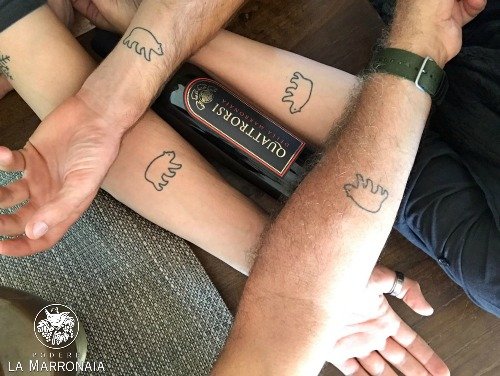 Source: Podere La Marronaia
To celebrate their passion for the wine they decided to give this name to one of our IGT (Typical Geographic Indication), that is very representative, also in its taste. Strong but gentle, rich but simple like them, we defined this wine "Meditation Wine" because is the perfect wine that you can drink while relaxing
What is a SuperTuscan or IGT?
We can define SuperTuscan all the red wine produced in Tuscany that don't respect, on purpose, the traditional rules to produce the typical wines of the region, instead for these wines we use different kinds of grapes, like merlot, cabernet sauvignon, Syra and so on, adding them to the typical Sangiovese or in replacement of it. Usually these kinds of wines age in barriques for 12-14 months.
This kind of denomination was born in 1970, when in the production of the Chianti were deleted the employment of white grapes with some varieties of cabernet sauvignon and merlot.
Since these wine didn't follow the strict rules to obtain the DOCG certificate, at first were defined like "Table Wines". After, was born the category IGT (Typical Geographic Indication), the SuperTuscan obtained an higher certificate of quality.
Method of production
The Quattrorsi is a wine composed by three kinds of grapes: Sangiovese (70%), Merlot (15%), Syrah (15%).
The fermentation happens in cement tanks at controlled temperature.
This wine has to age for a minimum of 12 months in French oak barriques.
The Quattrorsi has a ruby red color, at the nose appears like a bouquet of black cherry, fruits of the forest and many spiced flavors comes from the ageing: tobacco, leather, almond, pepper and light notes of balsamic. At the palate is intense, elegant and balanced, and for this reason suitable to combine with many kinds of dishes.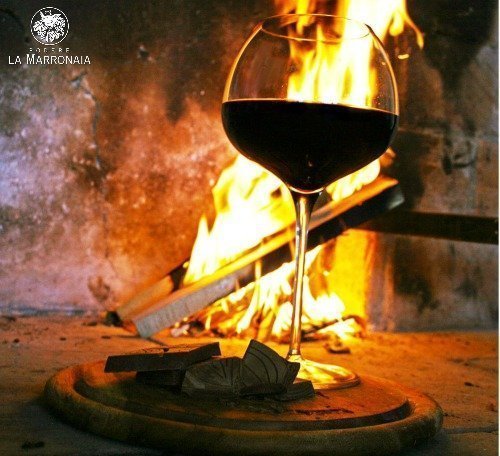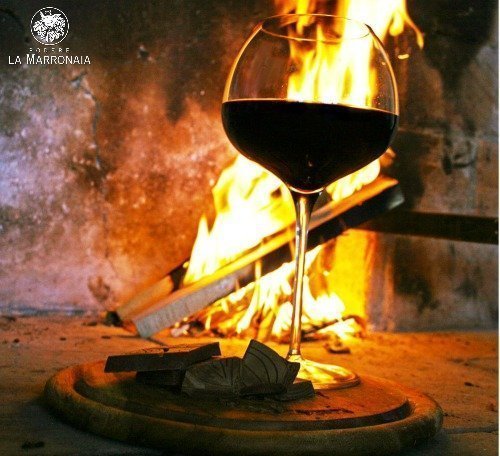 Source: Podere La Marronaia
What to eat with the Quattrorsi della Marronaia
We defined The Quattrorsi a "Meditation Wine", this because it's that kind of wine that you can drink that is also good with a piece of dark chocolate while relaxing on the sofa.
So this is the match that we decided to make with the Quattrorsi, just a simple piece of dark chocolate.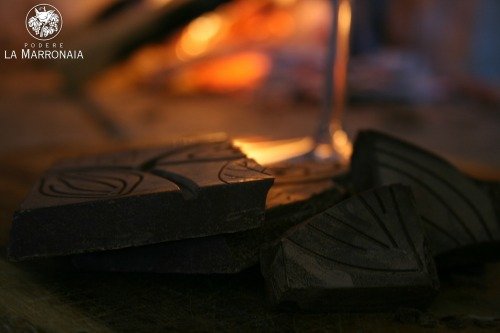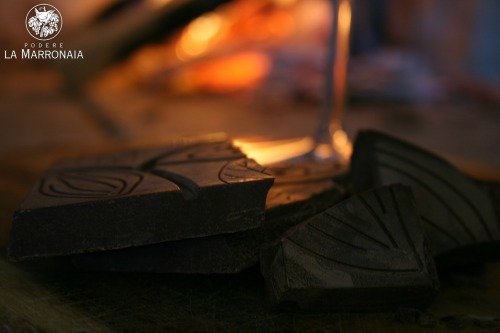 Source: Podere La Marronaia