TRUFFLE HUNTING & TRUFFLE COOKING CLASS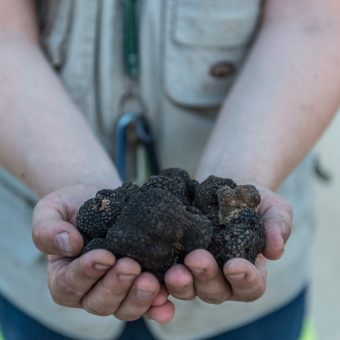 With the help of our 4-legged friends, magnificently trained, and the experience of Mirco and Luca, our trusty truffle hunters, immerse yourself 360 degrees in this unique and exciting experience.
End the morning with a cooking class completely based on fresh truffles, where you will learn how to treat and cook this precious ingredient. Then enjoy what you have prepared in our wonderful garden or in one of our exclusive private rooms accompanied by the tasting of our wines and organic oils.
The whole experience includes 1 hour and a half of real truffle hunting with one of our authorized guides in the truffle areas around San Gimignano, a lesson on what is the truffle, and first-hand experience of truffle hunting with one of the wonderful dogs.
Visit our Vernaccia vineyard, one of the oldest in San Gimignano, and to our olive grove, with an explanation of the farm and the various production processes.
Tasting of our organic wines and oils, including our Vernaccia di San Gimignano DOCG and our Chianti Colli Senesi DOCG.
2h / 3h Truffle-based cooking class:
Bruschetta with lardo di Colonnata and fresh truffle
Homemade Tagliatelle or Maltagliati with fresh truffles
Meat (fillet or pork loin) with fresh truffles
Program: Meet our licensed guides at Podere La Marronaia at 8:15 AM.
Go to the nearest truffle area and experience the 360 ° truffle hunting experience.
Go back to Podere La Marronaia, visit our vineyard and have fun in our family kitchen by learning how this precious food is used and treated.
Then relax in our garden or in one of our exclusive rooms eating what you have cooked in combination with the tasting of our organic wines and oils.
Truffle hunting is free for children under 12 years old. Meal with " A-la-Carte " Menù.
We recommend wearing sneakers or trekking shoes.
The Truffle Hunting Experience could be shared with other small groups.