WHERE TO BUY ITALIAN WINE ONLINE?
We are a family-owned winery in Tuscany that produces and sells
fine wine
, like
Chianti Classico
,
Super Tuscan, Amphora Wine
and
Vernaccia di San Gimignano
. In order to respect the land and our heritage, all of our
San Gimignano wine
is produced using organic and biodynamic farming methods. From the soil that nurtures the grape to the wine in your glass, we aim to cultivate the most authentic Tuscan experience in every bottle. Our
online wine store
offers free shipping for orders in multiples of six (you can mix and match all our products ) to the USA and throughout Europe so that you can
buy the best Italian wines
and then enjoy them from the comforts of your home with family and friends.
Wine
WHERE TO BUY EXTRA VIRGIN OLIVE OIL ONLINE?
We also produce organic
Extra Virgin Olive Oil
. All of the
olive oil
we create is produced in the traditional Tuscan way, meaning they are cold-pressed and not filtered, which creates both a robust and smooth oil. While there are a variety of
olive oil uses
, we as olive oil producers strongly believe that good cooking needs great olive oil. We invite you to choose between the many
types of olive oil
we press, from the natural to basil, rosemary, and precious truffle - there is no wrong choice!
Oil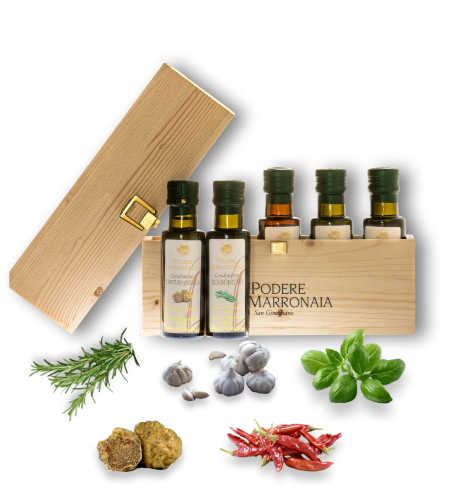 AMAZING NOVELTY
INFUSED EXTRA VIRGIN OLIVE OIL COLLECTION
Whether it be the sweet and savory garlic from Val d'Orcia, aromatic Tuscan truffles, spicy San Gimignano peppers, fresh basil from the Tyrrhenian Coast, or elegant wild rosemary of Chianti, this sampler kit includes oil for every occasion. We are certain that you will be hard-pressed to pick a favorite!
WHERE TO BUY MODENA BALSAMIC VINEGAR ONLINE?
Our
Balsamic Vinegar
is made in Modena with our very own
Sangiovese
grapes from Tuscany and the traditional techniques of the Emilia-Romagna region. We couldn't imagine a better way to produce our balsamic vinegar than with the true masters of
Modena
. This unique partnership has resulted in three different kinds of vinegar available for direct purchase, each one perfect to accompany dishes from appetizers to desserts.
Balsamic
HERE'S WHAT OUR BELOVED CUSTOMERS HAVE SAY ABOUT LA MARRONAIA...
BENEFITS OF JOINING THE FAMILY WINE CLUB