WHERE TO BUY ITALIAN WINE ONLINE?
We are a family-owned winery in Tuscany that produces and sells
fine wine
, like
Chianti Classico
,
Super Tuscan, Amphora Wine
and
Vernaccia di San Gimignano
. In order to respect the land and our heritage, all of our
San Gimignano wine
is produced using organic and biodynamic farming methods. From the soil that nurtures the grape to the wine in your glass, we aim to cultivate the most authentic Tuscan experience in every bottle. Our
online wine store
offers free shipping for orders in multiples of six (you can mix and match all our products ) to the USA and throughout Europe so that you can
buy the best Italian wines
and then enjoy them from the comforts of your home with family and friends.
Wine
WHERE TO BUY EXTRA VIRGIN OLIVE OIL ONLINE?
We also produce organic
Extra Virgin Olive Oil
. All of the
olive oil
we create is produced in the traditional Tuscan way, meaning they are cold-pressed and not filtered, which creates both a robust and smooth oil. While there are a variety of
olive oil uses
, we as olive oil producers strongly believe that good cooking needs great olive oil. We invite you to choose between the many
types of olive oil
we press, from the natural to basil, rosemary, and precious truffle - there is no wrong choice!
Oil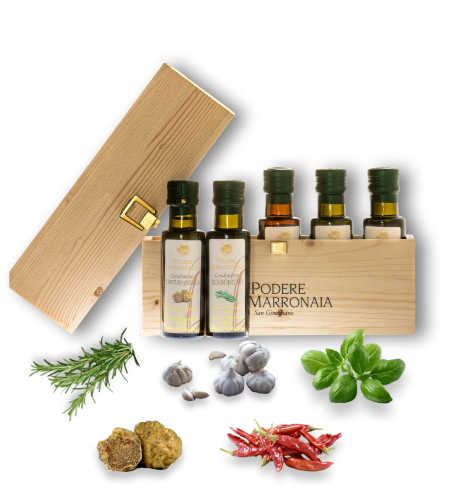 AMAZING NOVELTY
INFUSED EXTRA VIRGIN OLIVE OIL COLLECTION
Whether it be the sweet and savory garlic from Val d'Orcia, aromatic Tuscan truffles, spicy San Gimignano peppers, fresh basil from the Tyrrhenian Coast, or elegant wild rosemary of Chianti, this sampler kit includes oil for every occasion. We are certain that you will be hard-pressed to pick a favorite!
WHERE TO BUY MODENA BALSAMIC VINEGAR ONLINE?
Our
Balsamic Vinegar
is made in Modena with our very own
Sangiovese
grapes from Tuscany and the traditional techniques of the Emilia-Romagna region. We couldn't imagine a better way to produce our balsamic vinegar than with the true masters of
Modena
. This unique partnership has resulted in three different kinds of vinegar available for direct purchase, each one perfect to accompany dishes from appetizers to desserts.
Balsamic
OUR BELOVED CUSTOMERS SAY

Wondeful Memories Made At Podere La Marronaia! The staff was welcoming, friendly and knowledgeable. (They took the gluten-free needs of one of our guests seriously and happily accomodated.) The setting was classically Tuscan, with a perfect view of San Gimignano, and the food and wine was delicious. We had a wonderful experience!

Amazing What an amazing experience! We loved touring the vineyard and winery. Lunch was absolutely wonderful. We had a shaded table with misters to keep it cool on a hot July day. The food and wine were perfect.

A Journey into Tuscany: Super Tuscan & Organic Tasting Experience We were thrilled to partake in the Super Tuscan wine tasting. The chance to explore both white and red wines that step outside traditional D.O.C.G rules was an enriching experience. With a focus on the Sangiovese red grape, we discovered new tastes, aromas, and feelings that have made Super Tuscans increasingly popular. The tasting included organic and bio-dynamic products, along with delightful olive oil and balsamico. The bonus tasting of their exceptional rosé was a memorable highlight. For those looking to explore innovative and sustainable Tuscan wines, this experience is a must!

Fantastic experience Amazing experience great wine and food highly recommend!!!!! Family friendly everyone had a wonderful time. Staff was also amazing!!!

Wonderful wine tasting The landscape was beautiful only topped by the wine and the food. Fabulous afternoon with our family.

All wine tastings should be accompanied by a meal like this! We visited in July 2023 for truffle hunting, followed by lunch with wine tasting. The first three courses featured truffles, as per our themed tour, and they were exquisite! Our hostess explained each wine in detail and brought out several others for tasting at the request of one of our party members. We were invited to purchase bottles of anything (including olive oil and balsamic) and have it shipped, but there was no sort of pressure, just cheerful assistance. We look forward to receiving our shipment and sharing with our family in the states. The grounds were breathtaking. We cannot wait to visit again!

Tour review This tour was wonderful in every aspect. The food was paired with the balsamic, wine and olive oils. Our guide explained the different items we were eating. The tour ended up being a wonderful expression of Italian culture. Highly recommend the tour

Great pizza cooking class with great wine and great staff. This is a beautiful place. The pizza cooking class was terrific and we ended up with more food than we could eat. The staff was very nice. The wine tasting was part of the experience and was also terrific.
Großartig um kurz von San Gamiliano anzuhalten und einen Wein zu trinken und zu essen. Richtig gute Pasta und hervorragende Weine, sehr anschaulich und freundlich erklärt von der fantastisch und sehr herzlichen Kellnerin Sarah :) Toller Ort, kommen gerne wieder.
Caroline Chicoine
2023-08-26
C'était une expérience parfaite! La vue était magnifique, les produits sont une qualité et une finesse extra. Le service tout sourire et le vin divin!
Posto trovato su google per caso e siamo rimasti molti felici! Cibo buono, bella accoglienza, unica pecca: tutto molto turistico. A partire dalla lista per ordinare i vini/oli/aceti in inglese e finire con i prezzi delle bottiglie. Consigliato per una domenica fuori porta :)
Francesco Masciale
2023-08-19
Posizione "magica". Degustazione di vernaccia e oli di produzione propria, oltre a pranzo a base di tartufo, seduti nel vigneto con vista suggestiva sulle colline e su San Gimignano. Qualità dei prodotti superlativa. Gentilezza, preparazione e passione dello staff, davvero unici. Esperienza da ripetere assolutamente.
Great wine tasting experience!
Guter Ort für ein Wine & Food-Tasting. Die Aussicht auf San Gimignano ist einmalig.