MEMBERSHIP CARD
With the Family Membership Card, you have the chance to taste all our wines at any time of the year.
One card, multiple benefits.
Not only wine but also exclusive gifts and special discounts.
The Family Membership Card offers you priority access to wines only available from the winery, shipped to your home anytime you want.
Also, the membership offers special pricing on our products, free bottles of wines and gifts from our family.
If you join our family membership, you can sign up for our Family Subscription service to get regularly scheduled wines each month or anytime you want with extra benefits and discounts. It's up to you!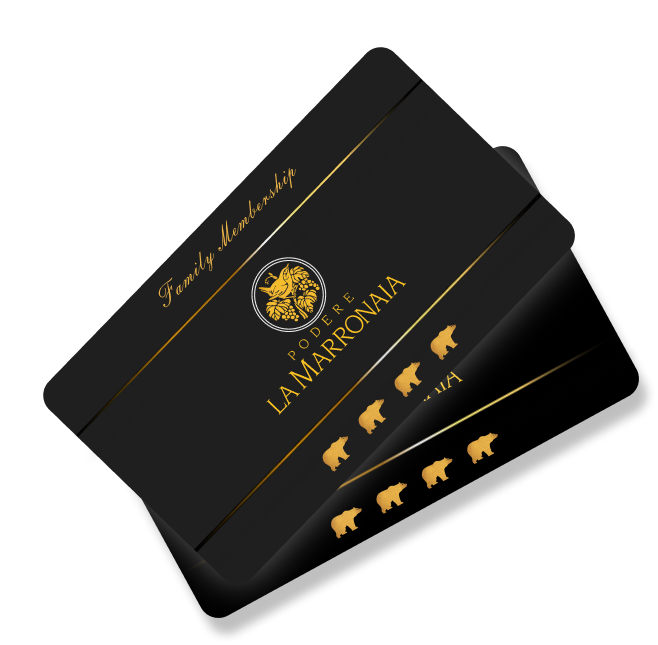 FAMILY MEMBERSHIP CARD BENEFITS
5% Discount on the pre-order
10% Flat Discount on purchases after signup
Special Discounts with the bonus "Become an Ambassador"
Special Discounts on our tastings and cooking classes
Exclusive pictures from our winery view, including the vineyard and cellar pictures
Exclusive early access on new wine releases
JOIN LA FAMIGLIA
FAMILY SUBSCRIPTION
Free shipping on all orders all year long to USA, Europe and Canada
Exclusive early access and sample bottles of our new wine releases
10% Discount on the pre-order
5% Flat Discount on purchases after signup
3% Discount on all orders in our winery
Updates and newsletters with discounts and promotions
Exclusive hand-made book with our personal selection of poems written by Fòlgore da San Gimignano (with English translations!)

SUBSCRIBE