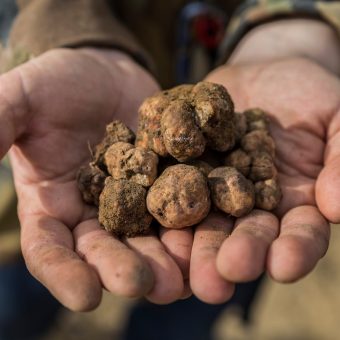 TRUFFLE LUNCH & TRUFFLE HUNTING IN TUSCANY (ITALY)
Do you want to deepen your knowledge of one of the finest slow-food products in the world? Please take part in our TRUFFLE hunt with Mirco and Luca and savor the true and unique emotion of finding, smelling, and touching one of the most precious fruits of the earth.
Our authorized guides will introduce you to the world of truffle hunting; they will teach you to recognize the trees under which they grow, the ideal habitat for truffle growth, and how to cook and store them.
With the help of our 4-legged friends, magnificently trained, and the experience of Mirco and Luca, our trusty truffle hunters, immerse yourself 360 degrees in this unique and exciting experience.
At the end of the morning, you'll have the chance to delight your palate with an entire truffle lunch, accompanied by the tasting of our organic wines and oils.
The whole experience includes – 1 hour and a half of real truffle hunting with one of our authorized guides in the truffle areas around San Gimignano, a lesson on what a truffle is and, first-hand experience truffle hunting with one of the wonderful dogs.
TRUFFLE LUNCH MENÙ & HUNTING EXPERIENCE
1. Mixed bruschetta with black and white truffles
2. Tagliolini with fresh truffle
3. Truffle flavored cold meats and cheeses and/or eggs with truffles.
Dessert of the day- Visit our Vernaccia vineyard, one of the oldest in San Gimignano, and to our olive grove, explaining the farm and the various production processes.- Tasting of our organic wines and oils, including our Vernaccia di San Gimignano DOCG and our Chianti Colli Senesi DOCG.
PROGRAM
Meet our licensed guides at Podere La Marronaia at 8:15 AM.
Go to the nearest truffle area and experience the 360 ° truffle hunting experience.
Return to Podere La Marronaia and enjoy a truffle-based lunch with a tasting of our organic wines and oils just after visiting our Vernaccia vineyard and our olive grove.
Truffle hunting is free for children under 12 years old. Menù "A-la-Carte."
We recommend wearing sneakers or trekking shoes.
The Truffle Hunting Experience could be shared with other small groups.