Cabernet is perhaps the most widespread red grape variety in the world: it has gained global attention thanks to the fame of the great Bordeaux wines, usually in union with Merlot. There are two varieties, Cabernet Franc and Cabernet Sauvignon, both also grown in Italy. Although they are allochthonous vines, both derive from Vitis Biturica, which arrived in Italy from the port of Durres in Albania and was planted in France by Roman soldiers.
It is good to know that this vine can be divided into two subgroups: Cabernet Franc and Cabernet Sauvignon. The first is the vine grown in the French region of Bordeaux, which, due to its structure capable of transmitting the most intense characteristics of the terroir, and was Cardinal Richelieu's favorite wine.
On the other hand, Cabernet Sauvignon is a variant of Franc, obtained from a natural crossing between this and Sauvignon Blanc, which grows strong and vigorous even in very different climatic and territorial conditions. Undoubtedly, it is one of the most widespread grape varieties in many parts of Europe and the world, although it requires a lot of patience, as it ripens extremely slowly.
Despite this, Cabernet Sauvignon has become synonymous with high quality, infusing wine with an elegant and refined character, capable of aging with class and giving unique sensorial experiences compared to many other wines.
Cabernet franc & sauvignon as wine
Cabernet Franc, especially when young, appears wilder and more aggressive, with its herbaceous flavor, than Cabernet Sauvignon (even if the name of the latter derives from Sauvage, wild), but at the same time, it is aristocratic, full, of great body.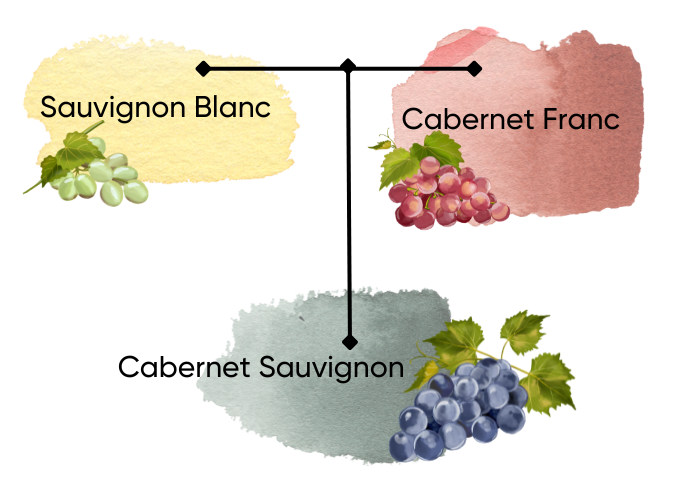 Of a very intense ruby red color, it is low in alcohol but rich in tannins and acidity. Long-lived, it improves its characteristics over time because it partially loses its youthful herbaceousness, refines, and becomes elegant, soft, and clothed.
Cabernet Sauvignon is also red, tending towards purplish, and when young, its scents also have herbaceous tones but with captivating nuances of raspberry. Over time it sublimates, releasing gentle aromas of violets. It often enters a blend with Franc, forming a perfect couple: it compensates for its alcohol deficiencies. In addition, it refines its aristocratic roughness, drawing from it a strengthening of character.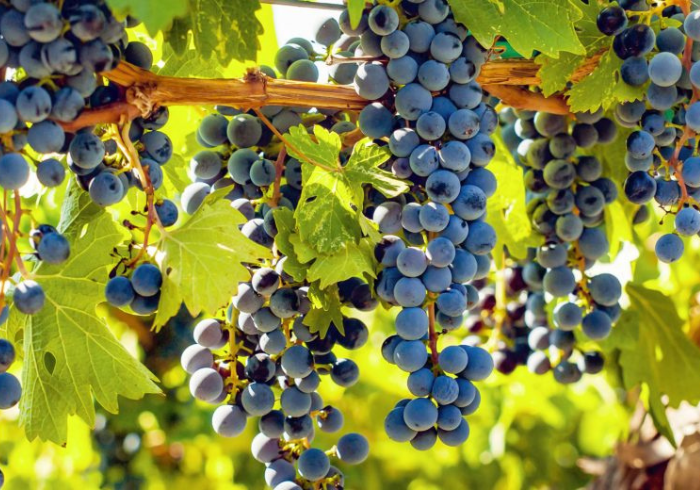 Origins
According to Prof. Fregoni, almost all the Cabernet Franc grown in Italy is Carmenère. A variety once widespread in the Bordeaux area would have been sacrificed in favor of Merlot and taken to Chile, giving well-defined characteristics to that country's wines. 
So how to distinguish Carmenère from Cabernet Franc? An empirical method may be to taste the grape. If green peppers' flavor is distinct, it could be Carmenère, very rich in pyrazine, the substance responsible for this particular taste. 
Characteristics of the wine
Cabernet Franc gives an intense ruby red wine with lively violet reflections. The scent is intense, and it expresses decisive herbaceous notes on a delicately fruity background. The taste is dry and well-structured, with a taste-olfactory persistence that recalls the vegetal sensations already perceived on the nose. It adapts very well to blends with Cabernet Sauvignon and Merlot.
Oigins
Cabernet Sauvignon is one of the most widespread vines in the world. It is particularly suitable for producing wines of remarkable quality and outstanding longevity, often used in blending with Cabernet Franc and Merlot. This blend is commonly known as the "Bordeaux cut," after the area where it was initially introduced.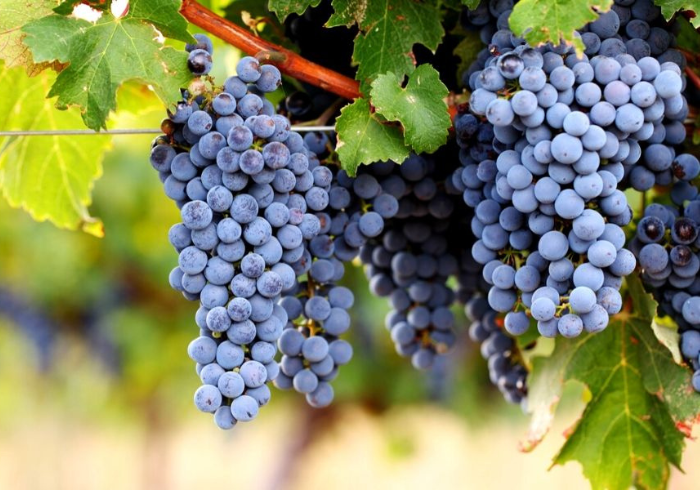 Recent genetic tests confirm that the origin of Cabernet Sauvignon is to be attributed to a crossing between Cabernet Franc and the Sauvignon white grape variety. Cabernet Sauvignon can adapt to the most diverse climatic conditions and winemaking techniques.
While maintaining its recognizable characteristics, Cabernet sauvignon also perfectly expresses those of the terroir. In Italy, Cabernet Sauvignon's elective homeland is Tuscany, where the "Supertuscan" phenomenon was born in the 1970s.
Characteristics of the wine
Cabernet Sauvignon is a great vine that gives an intense ruby red wine with purplish, almost blue hues. The bouquet is intense and delicate, elegantly herbaceous and vegetal, and fruity with hints of small black fruits, mentholated and chocolate notes. The taste expresses elegance, excellent balance between freshness, tannins, extraordinary softness, remarkable structure, and important taste-olfactory persistence, which make it particularly suitable for aging in wood.
The Cabernet Sauvignon is an important part inside our Orazio della Marronaia, The most remarkable wine of our farm aged for 3 years in oak barrels.